Front line health care providers know the issues facing rural health care better than any manager or consultant, writes Bashir Jalloh.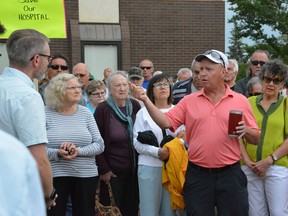 Merriman, Hindley should visit frontline
As a nuclear medicine technician and the president of Saskatchewan's largest health-care union, I was quite intrigued by the comments made by Everett Hindley, minister of mental health and addictions, seniors, and rural and remote health about working together to find solutions to our rural health-care crisis.
CUPE 5430 represents over 14,000 health care workers across Saskatchewan, including workers in some of the areas hardest hit by recruitment challenges that include laboratory, diagnostic imaging and members of the nursing team.
We have been sounding the alarm on staffing issues for years and offering concrete ways to implement solutions like: Market supplements for hard to recruit classifications and positions; creating more permanent full-time jobs postings; and stepping up training and recruitment efforts.
But our attempts to offer solutions have been ignored.
We have invited both Hindley and Health Minister Paul Merriman to attend a members' town hall to hear directly from health-care workers. We have also brought frontline health-care workers to the legislature, but they were too busy to meet.
Frontline health care providers know the issues facing rural health care better than any manager or consultant. We need to be a part of the process moving forward.
I sincerely hope that the Saskatchewan government is ready to take meaningful action on this file. All their talk of solutions is just empty words if they are not listening to and engaging with health-care workers.
Bashir Jalloh, Regina,
President CUPE 5430
Let's celebrate Medicare's 60th
Our health system is under attack! With emergency units shutting down due to under staffing, and overworked, under-appreciated existing staff, it is important that this July people in Saskatchewan recognize and celebrate the 60th anniversary of universal health care.
It is more important than ever that we keep our health care publicly funded. If we don't "stand on guard for thee," we could lose it by doing nothing. Our system might have problems or could be improved, but at least we have it.
Over the years, everyone would have benefitted from medicare brought in by the NDP. Pocket issue problems will be even greater if we lose this publicly funded universal health care principle.
Marcella Pedersen, Cut Knife
SHARE YOUR VIEWS
The Leader-Post welcomes letters, which should include the writer's name and phone number.
Submissions will be verified and edited before publication.
We publish the names and community of all letter writers.
Emailed letters are preferred but do not send letters as attachments.
Writing more than one letter a month is discouraged and "open" letters are not accepted.
Email: letters@leaderpost.com
Send to: 300-1964 Park St., Regina, Sask., S4N 7M5
Want to know how we decide what to cover and how editorial decisions are made at the Regina Leader-Post and Saskatoon StarPhoenix? Get the weekly Letter From the Editor newsletter from the Editor in Chief Russell Wangersky and join the discussion on what goes into covering news and delivering commentary, both in print and online. Click here to subscribe.
Regina Leader Post Headline News
Sign up to receive daily headline news from Regina Leader-Post, a division of Postmedia Network Inc.
By clicking on the sign up button you consent to receive the above newsletter from Postmedia Network Inc. You may unsubscribe any time by clicking on the unsubscribe link at the bottom of our emails. Postmedia Network Inc. | 365 Bloor Street East, Toronto, Ontario, M4W 3L4 | 416-383-2300