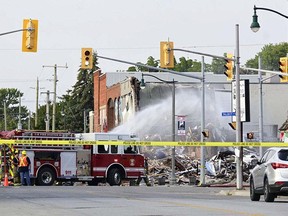 A Windsor law firm has launched a $100-million lawsuit against Chatham-Kent and the company the municipality contracted to deal with the source of a gas leak that triggered a powerful gas explosion in Wheatley's downtown last year.
Alleging "reckless" and "grossly negligent" conduct by officials leading up to the Aug. 26, 2021 explosion, as well as with their handling of the situation in the period that followed, Strosberg Sasso Sutts LLP is seeking to have the claim certified as a class action.
Windsor Star Headline News
Sign up to receive daily headline news from the Windsor Star, a division of Postmedia Network Inc.
By clicking on the sign up button you consent to receive the above newsletter from Postmedia Network Inc. You may unsubscribe any time by clicking on the unsubscribe link at the bottom of our emails. Postmedia Network Inc. | 365 Bloor Street East, Toronto, Ontario, M4W 3L4 | 416-383-2300
The lawsuit seeks compensation for property and business owners, as well as renters and anyone else who suffered injury, damages or losses as a result of the blast that levelled two buildings and caused multiple injuries in the town of about 3,000 located along the Lake Erie shoreline east of Leamington.
At a town hall with residents in September, the Ontario Fire Marshal's office confirmed that hydrogen sulphide gas had entered the basement of a building at 15 Erie St. N. and was then ignited by an appliance, setting off the devastating explosion at 6: 13 p.m. The blast occurred as emergency workers were establishing a wider evacuation area.
This explosion will be a class action for sure
Engineering consultants said the hydrogen sulphide came from the shallow bedrock aquifer below the town via an old underground water well. Three old wells in the vicinity, one of them dug in 1897, have since been plugged. Many such wells tapping into plentiful natural gas deposits in the area had been drilled and abandoned over the past century or more.

The Strosberg Sasso Sutts lawsuit points to previous gas leaks detected at that location starting on June 2, 2021, when the mayor first issued a declaration of emergency. The statement of claim questions why certain actions were allegedly not taken. The explosion came after on-site sensors and monitoring equipment alerted authorities to the presence of potentially explosive gas levels.
"I just don't understand why they didn't turn off the power, turn off the gas, and ventilate the building — that's the key question," lawyer Harvey Strosberg told the Star Monday. "Our theory is, if you don't have ignition, you don't have an explosion."
The claims and allegations contained in the lawsuit, which was filed in Superior Court of Justice in Chatham on Friday, have yet to be argued or proven in court. The lawsuit names six plaintiffs representing those who suffered personal injury, property damages and business losses.
"This explosion will be a class action for sure," said Strosberg, whose firm has much experience in such legal action. Earlier this year, the courts certified his company's $35-million class action suit on behalf of occupants, including the City of Windsor, of the downtown's Westcourt Plaza highrise, which remains vacated since a 2019 fire.
A second part of the Wheatley lawsuit alleges that local officials failed in their "duty to take all reasonable care" after owners and residents were barred from accessing their properties in the evacuation zone surrounding the blast site. "They didn't take care of those properties," said Strosberg, citing frozen pipes, food left to rot in fridges and kitchens, and insects and rodent damage.

Contacted Monday, Dave Taylor, Chatham-Kent's director of legal services, told the Star he had yet to see the statement of claim and could not comment.
After reducing the evacuation zone's footprint several times, Taylor said there are "still a number of property owners who have not been able to return," whether due to being inside that zone or because required property repairs have yet to be completed.
A spokesperson for Calgary-headquartered HSE Integrated, the lawsuit's other named defendant, could not be reached for comment Monday. The company, with offices across North America and billing itself as "Canada's expert provider of onsite health and safety services," is identified in the statement of claim as having been retained by Chatham-Kent and/or the province "to deal with the gas leak at 15 Erie Street."
Some compensation for affected Wheatley residents and property owners has been offered through the municipality and the province, but currently available housing supports are set to end on Dec. 21. Gas monitoring continues, but it's unknown when Wheatley's downtown might ever be deemed safe again.
Recommended from Editorial
Fifteen months after the explosion, Wheatley's recovery continues, with no end date in sight. At September's town hall, residents were advised that no one could guarantee 100 per cent safety moving forward, leading to concerns being expressed by some residents over their ability to continue accessing property insurance.
The relief being sought by the courts in the lawsuit includes $60 million in general damages, $20 million in special damages and $10 million each in aggravated and punitive damages.