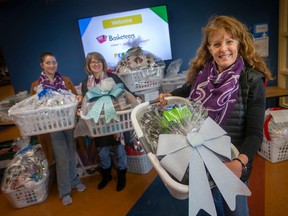 Women heading out to live independently after sheltering at Haitus House will not only receive a basket full of household items, they'll also feel the love and support of the community.
Windsor Basketeers, the local chapter of the national volunteer organization that prepares and distributes essential personal and household items for women who are transitioning from shelters to their own homes, held its fourth annual basket collection Saturday.
Windsor Star Headline News
Sign up to receive daily headline news from the Windsor Star, a division of Postmedia Network Inc.
By clicking on the sign up button you consent to receive the above newsletter from Postmedia Network Inc. You may unsubscribe any time by clicking on the unsubscribe link at the bottom of our emails. Postmedia Network Inc. | 365 Bloor Street East, Toronto, Ontario, M4W 3L4 | 416-383-2300
"Women who are transitioning from shelters often have nothing," said spokeswoman Mary-Ann Stark. "Sometimes they've had to leave their housing situation in the middle of the night with nothing but the clothes on their back.
"We want to let women in this situation know that there are people who care," Stark said. "We always put a note in (the basket) as well to let the recipient know that we care and they matter and that what they are doing is hard and we're rooting for them."
Stark was expecting about 23 baskets to be dropped off Saturday, full of items to stock kitchen or bathroom, tool kits, small appliances, wellness items and other goods donated by community members.
"These baskets definitely help women who are leaving the shelter," said Sylvie Guenther, Hiatus House executive director.
"They leave a home that they have that's abusive and they have to restart from fresh and from nothing," Guenther said.
"A lot of times they have children and they don't have the resources and so these are the kinds of things that we take for granted sometimes that might help them stock their home."
Hiatus House is an emergency shelter that provides a safe place for female victims of abuse.
November is Woman Abuse Prevention Month, which highlights every woman's fundamental right to live in safety and security in her home and community.