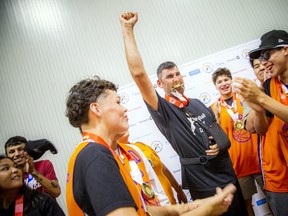 Two years after the Ontario Summer Indigenous Games were cancelled because of the pandemic, the games brought together 280 athletes, their families and coaches to Ottawa — Algonquin Territory — for three days.
The athletes, all between the ages of 13 and 18, came from all over the province, with some families coming from remote fly-in communities or traveling 18 hours or more to get to Ottawa.
The games began on Friday with events including athletics, volleyball, basketball, softball and soccer. The event wrapped up on Sunday with a drumming ceremony, medal presentations and a feast at the University of Ottawa.
Emma Yerxa, 17, of Fort Francis, and Leta Meekis, 18, of Sioux Lookout, played on the same volleyball team representing Treaty 3, which includes about 28 communities scattered over more than 140,000 square kilometres north and west of Thunder Bay. Yerxa and Meekis  tried out for the team in Kenora.

Meekis has finished her first year at Trent University, where she is a practice player with the volleyball team. Yerxa will be going to Toronto Metropolitan University (Ryerson) in September. Before the pandemic, high school teams would sometimes travel five hours to get to a game, they said.
"I haven't played for two years except for the high school team," said Yerxa. "This is my last hurrah."
The games are about developing connections and friendships and celebrating Indigenous culture. But they are also about identifying high-performance athletes. Coaches were at the games to scout athletes for the Ontario contingent at the North American Indigenous Games, to be held in Halifax next summer.
The Cooper family from Wikwemikong First Nation on Manitoulin Island travelled eight hours to get to Ottawa.

"It gives him a chance to branch out and play with kids from all over," said Shane Cooper of his sixteen-year-old son, Jordan, who competed in basketball and wants more opportunities to play the game at a competitive level.
The pandemic has been stressful for many youth who had lost an opportunity to compete, said Gerry Benoit, a former provincial-level basketball player from Pikwàkanagàn First Nation near Pembroke, who was the coach of the gold-medal winning 16-yer-old boys' team.

The team held a basketball camp and an exhibition game against Pembroke's Bishop Smith Catholic High School to bond and sharpen up their skills before the games began. The players didn't know each other, but they gelled quickly, said Benoit.
"You have to connect with them. You have to push them out of their element," said Benoit. "I tell them, 'It's not about medals, it's about something you want to do, about meeting new friends."

Rodney Maracle, 15, of Tyendinaga Mohawk Territory west of Belleville, won gold medals in 1,500 metre and 400 metre races as well as basketball. He had been scheduled to compete in his first games in 2020 when they were cancelled.
"I love sports. I live for sports. Just being around everybody," said Maracle.
"We became friends so fast. Basketball creates a good bond. As soon as I met them, we were already tight. It was as if I had known them for years."




Ottawa Citizen Headline News
Sign up to receive daily headline news from Ottawa Citizen, a division of Postmedia Network Inc.
By clicking on the sign up button you consent to receive the above newsletter from Postmedia Network Inc. You may unsubscribe any time by clicking on the unsubscribe link at the bottom of our emails. Postmedia Network Inc. | 365 Bloor Street East, Toronto, Ontario, M4W 3L4 | 416-383-2300