"At that point, we wanted to know what happened," a colleague of the officers on trial testified Tuesday. "Why somebody was shooting at Clayton, why it happened today. We wanted to know his side of that story."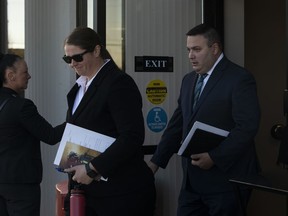 A Grande Prairie RCMP drug investigator took the stand Wednesday in the case of two fellow officers charged with manslaughter for the 2018 shooting death of a man in Whitecourt.
Cpl. Eldon Chillog testified for the Crown on day three of the trial of Const. Jessica Brown and Cpl. Randy Stenger, who are accused of using excessive force when they shot Clayton Crawford 10 times during an attempted arrest at a rest stop near Whitecourt on July 3, 2018.
Edmonton Journal Headline News
Sign up to receive daily headline news from the Edmonton Journal, a division of Postmedia Network Inc.
By clicking on the sign up button you consent to receive the above newsletter from Postmedia Network Inc. You may unsubscribe any time by clicking on the unsubscribe link at the bottom of our emails. Postmedia Network Inc. | 365 Bloor Street East, Toronto, Ontario, M4W 3L4 | 416-383-2300
Chillog, a 22-year veteran of the force, was at the Grande Prairie RCMP detachment the day prior when word came in of a shooting in the nearby hamlet of Valhalla Centre.
Chillog testified he was well aware of the property where the shooting occurred, which had a reputation in the small community. Jurors heard Crawford's girlfriend was shot in the leg when two assailants fired through the door of the house, and that Crawford, 31, had subsequently fled the scene.
Crawford was known to drive a distinctive, older-model Dodge Dakota pickup that was purple and had the words "plum crazy" inscribed on it. Chillog said that through his work in the drug section, he believed Crawford was targeted because he had stolen drugs or money from a man called Lenny.
Chillog said at some point, a decision was made to include a description of Crawford's truck on a BOLO (be on the lookout for) notice for the suspect vehicles.
"At that point, we wanted to know what happened," Chillog said. "Why somebody was shooting at Clayton, why it happened today. We wanted to know his side of that story."
Another officer, Const. Joel Durling, spotted the purple truck while off duty the next day at the Chickadee Creek rest stop, located on Highway 43 near Whitecourt.
Recommended from Editorial
On the trial's opening day Monday, lawyers for Brown and Stenger said Crawford was wanted on warrants, had previous arrests for discharging a firearm and was known to be involved in the drug trade. Defence lawyer Robb Beeman, who is representing Brown, said Crawford was sleeping when the officers found him and that a struggle ensued in which Crawford narrowly missed striking his client with his truck.
Beeman said Brown fired because she feared for her life and the lives of fellow officers.
Crown prosecutor Linda Shin, however, claimed the force the officers used was "unnecessary and unreasonable." The officers are also facing charges of aggravated assault and discharging a firearm with intent to cause bodily harm. They were initially charged with criminal negligence causing death.
The trial is scheduled to last 15 days and is being heard by Court of King's Bench Justice Kent Davidson.
Editor's note: This story has been updated to reflect the correct spelling of Cpl. Randy Stenger's name.