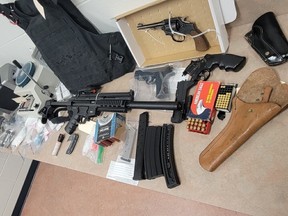 A St. Albert duo is facing multiple charges after a months-long investigation resulted in the seizure of drugs, guns and a grenade.
The charges come after RCMP began monitoring a woman who was on 24-hour house arrest for property and drug-related charges after police learned she was reportedly in possession of a gun, which she was under a court order not to possess.
Edmonton Journal Headline News
Sign up to receive daily headline news from the Edmonton Journal, a division of Postmedia Network Inc.
By clicking on the sign up button you consent to receive the above newsletter from Postmedia Network Inc. You may unsubscribe any time by clicking on the unsubscribe link at the bottom of our emails. Postmedia Network Inc. | 365 Bloor Street East, Toronto, Ontario, M4W 3L4 | 416-383-2300
On Nov. 18, a search warrant was executed at the woman's home. Police seized a loaded 9-mm handgun, a .22-calibre rifle, ammunition and magazines, 151 grams of methamphetamine, 52 grams of fentanyl, a grenade, body armour, hundreds of fraudulent or stolen IDs, cheques, credit cards and passports, seal embosser stamps, an embossing machine, a card printing machine, and a debit/credit card machine.

As a result, Amy Actimichuk, 38, of St. Albert is facing multiple charges including altering/defacing a firearm, possession of a prohibited/restricted firearm without a licence to possess, two counts of unlawful possession of a controlled substance, and possession of body armour without a valid permit.
Thirty-five-year-old Dustin Orvis, of St. Albert, is also facing multiple charges including two counts of altering/defacing a firearm, two counts of possession of a prohibited/restricted firearm without a licence to possess, possession of a firearm for a purpose dangerous to the public, possession of a loaded prohibited/restricted firearm, and possession of property obtained by crime.
Actimichuk and Orvis were remanded in custody and will appear in St. Albert provincial court on Nov. 28.