Shares fall on report 1,000 employees to be cut
Author of the article: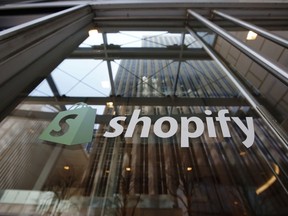 Shopify Inc. is laying off 10 per cent of its workforce, or about 1,000 employees, after a bet on e-commerce growth didn't pay off, chief executive Tobi Lütke said on Tuesday.
In a blog post on Shopify's website, Lütke said the cuts primarily affect people in recruiting, support and sales. All those affected will leave by the end of the day, he said.
The company saw a surge in e-commerce growth as COVID-19 lockdowns forced people to shop online, pushing the company to invest to keep up pace. Executives expected the surge to be permanent, but growth has since fallen back to pre-COVID levels, Lütke said.
"Ultimately, placing this bet was my call to make and I got this wrong. Now, we have to adjust. As a consequence, we have to say goodbye to some of you today and I'm deeply sorry for that," Lütke said in the posting.
Shopify plunged more than 15 per cent to US$31.12 on the Nasdaq after the opening bell Tuesday morning. Shares are down 73 per cent this year, as of Monday's close.
The company will report its second quarter earnings on Wednesday. Analysts have cut their expectations for the results.
More to come…
With additional reporting from Reuters, Bloomberg
Financial Post Top Stories
Sign up to receive the daily top stories from the Financial Post, a division of Postmedia Network Inc.
By clicking on the sign up button you consent to receive the above newsletter from Postmedia Network Inc. You may unsubscribe any time by clicking on the unsubscribe link at the bottom of our emails. Postmedia Network Inc. | 365 Bloor Street East, Toronto, Ontario, M4W 3L4 | 416-383-2300