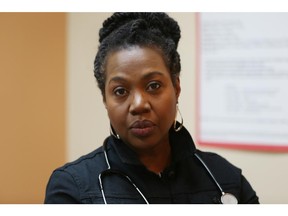 For the first time in 40 years, a Windsorite has been appointed to the Canadian senate.
Pediatrician Dr. Sharon Burey, also the first woman from the area to hold the position, is one of three newly appointed senators. Prime Minister Justin Trudeau made the announcement Monday.
Windsor Star Headline News
Sign up to receive daily headline news from the Windsor Star, a division of Postmedia Network Inc.
By clicking on the sign up button you consent to receive the above newsletter from Postmedia Network Inc. You may unsubscribe any time by clicking on the unsubscribe link at the bottom of our emails. Postmedia Network Inc. | 365 Bloor Street East, Toronto, Ontario, M4W 3L4 | 416-383-2300
"I know that their rich experiences, diverse perspectives, and passion for public service will help them be strong voices for all Ontarians," said Trudeau. "I look forward to working with them, and with all senators, as we continue to build a stronger, more prosperous, and more inclusive country that works for all Canadians."
Trudeau announced Monday that the Governor General also appointed Andrew Cardozo and Rear-Admiral Rebecca Patterson. All three individuals are independent senators and will fill vacancies in Ontario.
Burey is only the fourth senator ever from Windsor. The last was John Keith McBroom Laird, who held the position from 1967 to 1982. Paul Martin, Sr. was a senator from 1968 to 1974.
"This is a historic appointment for Canada and for Windsor — a strong, respected and leading voice in children's health, and a voice that understands our community's concerns," said Windsor-Tecumseh MP Irek Kusmierczyk. "This is a terrific appointment — and we congratulate Dr. Sharon Burey as the first Senator from Windsor in 40 years."
According to a biography provided by the federal government, Burey has "dedicated her career to equality, and to justice for those living in poverty, visible minorities, and other marginalized communities."
Burey, who emigrated from Jamaica in 1976, earned a Bachelor of Science in Biology at Western University. She completed her medical degree and specialty training in pediatrics at Dalhousie University. Burey also recently graduated with a Mini-MBA in Physician Business Leadership at York University.
She has practised as a behavioural pediatrician in Ontario for more than 30 years, and served as an adjunct professor of pediatrics at Western University since 2009.
As a health advocacy and policy leader, Burey founded Attention-Deficit/ Hyperactivity Disorder (ADHD) Awareness Windsor.
She serves as a member of the Pediatricians of Ontario Executive Council and the Ontario Medical Association (OMA) Health Policy Committee.
Burey was also a pediatrics delegate to the OMA Council and member of the OMA Women Committee.
She was the first woman of colour to hold the position of president of the Pediatricians Alliance of Ontario, which also serves as the Ontario Chapter of the American Academy of Pediatrics.
The government said Burey's work as a health advocate has been recognized with numerous honours and awards. They include the Ontario Chapter Excellence Award and the Special Achievement Award from the American Academy of Pediatrics, and the Excellence in Health Care Award from the North American Black Historical Museum and Cultural Centre.
Burey was also recognized for her outstanding service to the Council for the Prevention of Child Abuse in Windsor-Essex County.
Most recently, Burey received the Section Service Award in recognition of her significant service to the OMA and medical profession.