SaskPower is suing former partners for $14.3 million after an emergency oil pump failed at the Boundary Dam Power Station in 2018.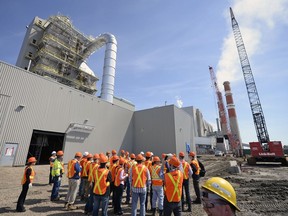 A Saskatchewan court will hear SaskPower's $14.3-million lawsuit over a mechanical failure at an Estevan-area power plant.
SaskPower is suing Saskatoon-based Mitsubishi Power Canada Ltd. and two Italian companies, among others, arguing an emergency oil pump and lubrication system failed to work when the Boundary Dam Power Station near Estevan shut down in June 2018 because of a thunderstorm.
The Crown corporation says this resulted in damage to the bearings of BD3, one of the plant's turbines.
The Italian firms, Flenco Fluid System S.r.l. and Pompe Garbarino S.p.A., asked the Saskatchewan Court of Queen's Bench to dismiss or stay the action, arguing the matter should instead be heard in Italy. 
Judge Keith Kilback dismissed their application. In a June decision, Kilback wrote that the matter was "clearly rooted" in Saskatchewan and said Italy would not be a more appropriate forum. He awarded costs to SaskPower as well as Mitsubishi, which was also a party in the case.
The suit arises from a damaging shutdown at the $1.5-billion coal-fired plant, which the provincial government once touted as the future of carbon capture and storage technology.

SaskPower claims that a thunderstorm caused a loss of power at the Boundary Dam station on June 14, 2018, triggering an emergency shutdown of BD3, the plant's third turbine.
The turbine was also part of a carbon capture and storage system, a means of attempting to capture carbon dioxide from burning coal before it enters the earth's atmosphere.
The plant became the first commercial-scale use of that technology in the world when it opened in 2014 and was promoted by the province as a way of reconciling the growing need to reduce carbon emissions with the economic realities of Saskatchewan, where coal still provides nearly a third of the province's total energy.
The carbon dioxide captured at the Boundary Dam Power Station is later used for commercial purposes, particularly in the nearby Weyburn oil patch where it is used to squeeze more oil from wells.
SaskPower said the failure of the turbine meant it was unable to supply Whitecap Resources Inc. with captured carbon dioxide during repairs, costing the Crown corporation a settlement fee of $3.6 million.

SaskPower filed its first statement of claim in 2020. The Crown corporation said the rest of the $14.3 million sought in the action would cover the cost of repairs, investigation of the turbine and related losses.
SaskPower had originally hired HCL, a predecessor company to Mitsubishi, to design, build, test and install the BD3 turbine. HCL later subcontracted Flenco to design an oil lubrication system and pumps for the design.
Flenco, in turn, contracted Garbarino to manufacture and deliver those two main pumps in Italy. Neither company dealt directly with SaskPower and neither company has a corporate presence in Canada.
The court decision says Flenco, Garbarino and SaskPower all hired Italian legal experts to provide opinions on where that part of the lawsuit should be heard, including on whether a Saskatchewan court's decision would be enforceable in Italy.
Kilback wrote that neither party could successfully prove on a balance of probabilities whether or not that could be the case and thus considered it a "neutral factor" in his ruling.
"On balance, I conclude it will be less inconvenient and less expensive for Flenco and Garbarino to defend these claims in Saskatchewan than it would be for SaskPower to pursue its claims against the Mitsubishi defendants in Saskatchewan and for SaskPower and Mitsubishi to pursue their respective claims against Flenco and Garbarino in Italy," he wrote. 
SaskPower declined to comment further on the matter, saying it is before the courts. Inquiries sent to Flenco and Garbarino were not returned.
zvescera@postmedia.com
twitter.com/zakvescera
The news seems to be flying at us faster all the time. From COVID-19 updates to politics and crime and everything in between, it can be hard to keep up. With that in mind, the Saskatoon StarPhoenix has created an Afternoon Headlines newsletter that can be delivered daily to your inbox to help make sure you are up to date with the most vital news of the day. Click here to subscribe.
We deliver the local news you need in these turbulent times on weekdays at 3 p.m.
By clicking on the sign up button you consent to receive the above newsletter from Postmedia Network Inc. You may unsubscribe any time by clicking on the unsubscribe link at the bottom of our emails. Postmedia Network Inc. | 365 Bloor Street East, Toronto, Ontario, M4W 3L4 | 416-383-2300