The StarPhoenix is reviewing the six local in-person shows featured at this year's Saskatoon Fringe Festival, which runs July 28 to August 6.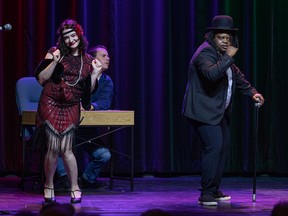 Check back here throughout the weekend for all of the reviews.
---
The Love Interest
4 stars/5
The Love Interest sounds like the sort of high-minded concept that theatre types think will work, but proves to be too clunky to actually pull off on the stage.
But the five-person play by Saskatoon's Theatre Howl manages to adeptly navigate the premise that the love interest in a novel has stopped co-operating with the novelist, leading to an epic case of writer's block.
"Writer's block?" Jonathon Pickrell as the novelist asks at one point. "She has me barricaded in a writer's tomb."
For everyone who experiences writer's block as a relatively minor hurdle in life — in other words, most people — this play will be received as intended, a comedy.
The quintet of actors takes the audience on an amusing tour through the novelist's mind as he struggles with a love interest (the vibrant Paige Francoeur) who becomes downright obstinate once she realizes she's a character in a novel.
That seems like the sort of conceit that will eventually weigh down a play so much it collapses, but not here.
Crisp performances, some snappy dialogue, useful set pieces and an ambitious series of costume changes and character transformations keep this Fringe offering consistently entertaining.
Francoeur first appears dressed like a 1920s flapper with a big smile on her face, seemingly waiting for the writer to imprint on her whatever characteristics he wants.
Yet he's in a for a surprise as she repels just about every attempt by the frustrated writer to try to finish his novel to meet a pending deadline.
Early on, the play raises issues about the writer's role in conveying truth, but thankfully these earnest concerns never become the play's focus and it remains a frothy comedy, flirting with ideas instead of getting bogged down with them.
— Phil Tank
---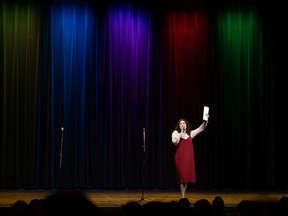 Half-Breed Vaudeville
5 stars / 5 
Amanda Trapp is trying to find the answers.
From her perch onstage at the Cosmopolitan Seniors Center Friday, Trapp posited the questions swirling in her mind. What is the value of art — as a product, a tool for creating empathy, a way to put yourself out into the world? How tangled up is someone's art in their identity? Why are you, the audience, here?
I would argue it's to see shows like this.
Through music, comedic aside, monologue and play, Trapp processes their feelings about identity and artistry. The Sorry/Grateful Theatre production is an existential crisis set to song.
Half-Breed Vaudeville questions the process that goes into one-person shows, which can be spaces where artists can plunge into the emotional (and sometimes traumatic) depths of their lived experience.
Branching off of that, Trapp asks what the value of art is when it's tangled up in capitalism, or, as with the last two years, when an audience can't be present to perceive it. It becomes a way for Trapp to explore their intricate system of being, while creating a momentary connection with the audience after so much time spent apart.
Trapp is a comfortable and comforting presence onstage. The audience seemed to feel at ease laughing, engaging and bobbing along to her well-crafted songs.
What is crafted here, what isn't? The show ends up turning that question on its head (I won't spoil how, but it's delightful). It's all fit snugly into a variety hour (actually a variety 45 minutes) and by the time it's over it feels like you've only just sat down.
If you've ever grappled with monetizing your passions, hitting a wall or just being a person putting themselves out into the world, hoping to be seen and understood, something will resonate here. It's definitely worth seeing.
— Amanda Short
---
Look Ma, We're on Broadway!!
3 stars / 5
The Funny Bone Schmomedy Zone is a rotating lineup of Saskatoon's finest amateur comics.
Their show at the Broadway Theatre on Friday night tried and often succeeded to tickle your funny bone and make you laugh until your ribs hurt. But sometimes they fell flat.
There are standouts. Host Danny Knight was a reliable opener, and Ryan Moccasin was a fan favourite. Friday's six-person lineup liked jokes that made their audience uncomfortable (the show is meant for adults). When it worked, it drew a chorus of delighted giggles. When it failed, there was deadpan silence.
Don't blame the comics. The beautiful Broadway theatre is part of the problem. It's just too big to create the kind of intimate ambience a standup show needs.
The other half is that, well, it's a standup comedy show. The performers are good, no question about it. But part of the experience are things they don't control — the size of the crowd, their mood and the intangible vibe.
It's like swimming in the ocean: you can kick all you want, but it all depends on the tide. Not to mention that the lineup of five to six performers changes, meaning no two shows will ever be same.
Go to Funny Bone Schmomedy Zone with an open mind and a good sense of humour. What happens next is up to fate.
— Zak Vescera
---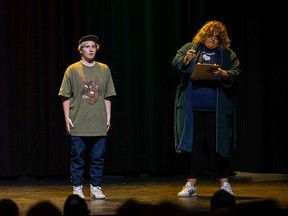 Metempsychosis
4 stars / 5 
Metempsychosis opens with a dead kid talking to a grim reaper who sounds like Tony Soprano.
And after that absurd start, the next 60 minutes of its opening night show on Thursday gave the audience exactly what you should want in a Fringe play.
The show takes place in the thin space between life and death (and sometimes vice versa). Jenna Berenbaum plays Dusk, who has recently passed into the void. He is greeted by Death, played by Marley Duckett doing her best Jersey Shore drawl.
The next hour or so deals with what comes after the end. It's a morbid topic that the capable cast squeezes for plenty of laughs, some of it meant for older ears (the play is intended for audiences aged 18 and older).
There is not much that is fancy about Metempsychosis (a fancy word that refers to a soul's journey after death). The staging and set are mostly simple. The show's star is Danielle Roy's script, whose comedic jabs still make room for the cast to flex some dramatic muscle.
Berenbaum and Duckett's rapport gets the audience laughing, and fellow cast mates Alex Hartshorn and Katelyn Polishuck deliver a heartbreaking knockout punch.
Martensville-based Gumshoe Productions has put together a play that is exactly what the Fringe is for. It is quick but satisfying. The show is well-written, capably performed and clever without being pretentious. It will definitely make you laugh and might make you cry. It is worth seeing.
— Zak Vescera
---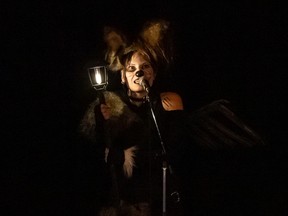 Identity Crisis
4 stars / 5 
We will all live to regret our Tamagotchis.
Saskatoon-based prizm productions' Identity Crisis finds local artist Alyssa Billingsley playing Gemini, a virtual being who's something like one of those digital pets left to wrestle with years of abandonment.
Gemini, as the name suggests, is split in two: half mangy pet spilling tufts of fur and overgrown nails, and half AI tormented with broken code and a fractured sense of self-awareness. Gemini is all the worse parts of how we treat Tamagotchis. We wanted them, we grew tired of them, but unlike Gemini, they didn't have more to say than digital squeaks.
The first glimpse we get of Gemini is its face beaming into a standup lamp — one of the play's few props, along with a chain fastened to the pet's leg. Whoever made Gemini, didn't expect it to leave.
Which is all to say Identity Crisis is a gleeful, wonderfully weird world that you're either visiting or trapped in.
The audience is an interloper in Gemini's home (or prison), a post-apocalyptic cyber hellscape where the only weather is acid rain broken by a red sky of stage lights. This narrative set up allows Billingsley to do some light crowd work, with some of the more accessible humour of the show.
The pet's dogged attempts to entertain by singing and sounding off with horoscope jokes are interspersed between Gemini's fractured recollection of trauma and neglect.
A sense of uneasiness undercuts these breezier asides with the audience. Underneath the pleasantries, Gemini is resentful, confused and terrified of a life-threatening "AI update" from unspecified creators. Billingsley's performance perfectly captures that preternatural feeling of uneasiness.
It's equal parts upsetting and entertaining and asks if the way we treat our tech isn't far off from how we treat some of our animals. Luckily, the tech and the pets can't talk back yet.
— Nick Pearce
---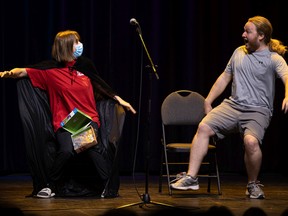 A Parfi(c)tt Evening 
3 stars / 5
It's nice to kick your feet up after a long eternity of scythes to grind and souls to collect. The trouble is pesky mortals can't help but gum up the works when you're trying to unwind. The nerve.
That's the predicament a certain Grim Reaper finds themselves in the first of two single act plays comprising a Parfi (c) tt Evening by James Prime Productions.
Both shows are high-concept rigamaroles that lean on quippy humour and feature hapless protagonists in over their heads.
In the first play, the Grim Reaper is relaxing as one of many Deaths assigned to cull Earth's inhabitants when mortal Jonas crash lands on their couch. Director Jimmy Mayo stepped in with a script in hand as a last second replacement for actor Kaelee Dyck in Thursday's show.
Death is a surprisingly gracious host to the perpetually-bewildered Jonas.
The second show lands a similarly jinxed protagonist with another supernatural problem: A disembodied Englishman is narrating everything Reed does, forcing the young man to question his agency as he bumbles through doctors' offices to root the voice out.
This show felt like the stronger of the two, benefiting from better execution and a more active role for Reed than Jonas had. Of course, the problem with a disembodied narrator is he's not technically on stage, which can be a drawback for a visual medium wringing comedy from chemistry and physical performances.
Sometimes that worked — like a scene where the narrator hurled abuse at the production team offstage — but it also left Reed alone on stage reacting to a monologue for long stretches of time.
Production and design elements in both shows were kept fairly minimal, limited to flicking the lights and some sound effects.
Both shows are based on what may be relatively familiar setups for a theatre crowd. But they liven them with charming performances and small twists.
— Nick Pearce
---
The news seems to be flying at us faster all the time. From COVID-19 updates to politics and crime and everything in between, it can be hard to keep up. With that in mind, the Saskatoon StarPhoenix has created an Afternoon Headlines newsletter that can be delivered daily to your inbox to help make sure you are up to date with the most vital news of the day. Click here to subscribe.
We deliver the local news you need in these turbulent times on weekdays at 3 p.m.
By clicking on the sign up button you consent to receive the above newsletter from Postmedia Network Inc. You may unsubscribe any time by clicking on the unsubscribe link at the bottom of our emails. Postmedia Network Inc. | 365 Bloor Street East, Toronto, Ontario, M4W 3L4 | 416-383-2300