A motorcyclist later died of injuries sustained during the first collision and subsequent attempt to flee.
Author of the article: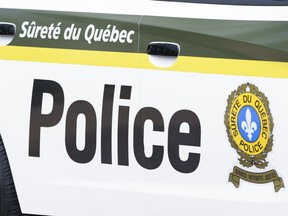 A driver police believe was under the influence of drugs was involved in two crashes Tuesday in Sorel-Tracy, 65 kilometres northeast of Montreal, causing one death.
The first collision happened on Route Marie-Victorin around 9 a.m. A motorcyclist was hit by a van and fell to the ground.
According to the Sûreté du Québec, preliminary information indicates the motorcyclist got up and managed to grab on to the van, which continued by turning onto Béatrice St. It's there that the motorcyclist was found, near a traffic sign, in critical condition. He was declared dead in a hospital hours later.
The driver of the van continued driving to Prince St., almost a kilometre away on the other side of the Richelieu River, where the vehicle hit a dump truck. It was here that police apprehended the driver, who had minor injuries and was brought to a hospital.
Police have made a request for a blood sample, believing the man was driving under the influence of one or more drugs. Results will be known in the coming days. The driver could face charges of dangerous driving causing death and hit-and-run causing death.
Accident investigators were sent to the scene to determine the circumstances of events.
Montreal Gazette Headline News
Sign up to receive daily headline news from the Montreal Gazette, a division of Postmedia Network Inc.
By clicking on the sign up button you consent to receive the above newsletter from Postmedia Network Inc. You may unsubscribe any time by clicking on the unsubscribe link at the bottom of our emails. Postmedia Network Inc. | 365 Bloor Street East, Toronto, Ontario, M4W 3L4 | 416-383-2300