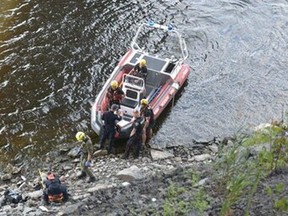 Ottawa firefighters and paramedics have rescued a man after he fell down a slope while walking under the Alexandra Bridge on Sunday afternoon.
The location of the incident made for a tricky rescue. Paramedics asked for Ottawa Fire Services' water rescue team to assist after receiving a call that the man, 48, had fallen and was injured.
Tactical paramedics rappelled down the bridge to assess the man, who had sustained leg, facial and possible head injuries.
The man was moved onto a stretcher and was handed over to the medics and firefighters in a rescue boat that had been launched from the Hull Marina in Gatineau.
At 4: 37 p.m., the water rescue boat transported the man to an ambulance waiting at the Ottawa Rowing Club on Lady Grey Drive in Ottawa.
Paramedics say the man was in stable condition and was transported to the hospital trauma centre as a precaution.
Ottawa Citizen Headline News
Sign up to receive daily headline news from Ottawa Citizen, a division of Postmedia Network Inc.
By clicking on the sign up button you consent to receive the above newsletter from Postmedia Network Inc. You may unsubscribe any time by clicking on the unsubscribe link at the bottom of our emails. Postmedia Network Inc. | 365 Bloor Street East, Toronto, Ontario, M4W 3L4 | 416-383-2300