Publishing date:
Jul 29, 2022  •  14 hours ago  •  3 minute read  •  11 Comments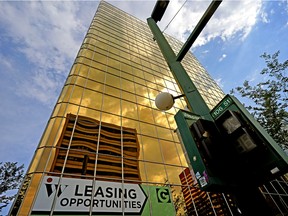 Edmonton office vacancies have hit a high not seen in more than three decades, nearly one in five office buildings with empty space Downtown.
The office vacancy rate for Downtown was 19.2 per cent in the second quarter of 2022 finishing in June, according to research from Colliers Macaulay Nicolls Inc. This is an increase from 18.5 per cent in the first quarter, and up more than two per cent from one year ago.
The last time it was higher was 36 years ago in 1986, according to Colliers' archives. Vacancy hit about 24 per cent in 1983 after the oil and gas market crashed, shortly after a swath of new buildings finished construction. Office towers started emptying out again in 2020 shortly after the onset of the COVID-19 pandemic. The vacancy rate plateaued, but rose again in 2021 and early this year.
Phil Goh, a Colliers senior vice-president, expects vacancy is at its worst and will start to turn around later this year. While it's difficult to pinpoint exactly why it went up, he expects uncertainty around work-from-home or hybrid work models, and whether or not employees will go back full-time, is a factor.
"Our economy is actually still doing well, but the pandemic has turned it upside down in terms of uncertainty," he said in an interview this week. "We should be at, if not past, bottom at this point … I'd say we're gonna start to get some good direction and decisions being made in the fall and moving forward."
Even before the pandemic, Goh said goverment offices were consolidating, which is a significant sector in Edmonton. These types of vacancies play a factor in the recent rise.
Edmonton Downtown Business Association executive director Puneeta McBryan hopes to see more people returning to the office and populating the area.
She said foot traffic started picking up in March and April, and then in May, both nighttime and daytime vibrancy was returning: "I think honestly the playoffs and that sort of energy even had something to do with that … (but) September is going to be a really noticeable change where a lot of large organizations are getting people back to some degree."
City of Edmonton spokeswoman Karen Burgess said Downtown office vacancy rates vary by building class likely due to the "flight for quality" where tenants move to higher quality buildings.
Citywide vacancies are about the same. The total office market for the Edmonton region is also 19.2 — also a 36-year high.
Retail vacancy
McBryan is more concerned about retail vacancies. Although there haven't been as many closures as expected during the pandemic, businesses had already started leaving before 2020 as shopping trends changed to favour large centres like West Edmonton Mall.
She hopes a focus on events and hospitality in the core will draw in more visitors and businesses. For instance, she'd like to see more options for entertainment and other experiences in the core at City Centre Mall — something like a rollerskating rink or escape room.
Article content
"We have to be creating an experience Downtown that is so worth visiting," she said. "Things that people can do that aren't just bars and nightclubs but are really viable business models and take up a fair amount of space, because space is something we do not have a shortage of."
McBryan also hopes the new grocery store opening in the Ice District later this year will also help.
To the south, Calgary's office vacancy rate hit a record 33.7 per cent last quarter. To address this, that city started an incentive program to convert buildings for other purposes including residential.
While there are some recent examples like the Enbridge Tower conversion to rental apartments, this isn't as common in Edmonton. According to Goh and McBryan, there aren't many buildings left that would make good options to convert so this may not be a solution for this city.
Sign up to receive daily headline news from the Edmonton Journal, a division of Postmedia Network Inc.
By clicking on the sign up button you consent to receive the above newsletter from Postmedia Network Inc. You may unsubscribe any time by clicking on the unsubscribe link at the bottom of our emails. Postmedia Network Inc. | 365 Bloor Street East, Toronto, Ontario, M4W 3L4 | 416-383-2300