"He was a Canadian movie industry pioneer and a visionary with a remarkable list of accomplishments."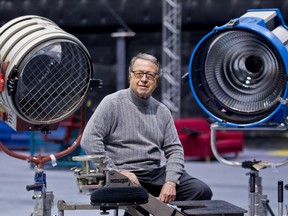 Montreal-born movie industry builder and philanthropist Melvin Hoppenheim, who founded and ran one of Canada's largest film and television production facilities, is dead.
Mel's Cité du Cinéma, the studio company that he created in Cité du Havre, confirmed his passing Thursday on its Facebook page. A cause of death wasn't specified. He was 84.
Born in October 1937, Hoppenheim grew up in a modest family on St-Urbain St. and lost his father when he was 12, he told La Presse in a 2012 interview. He began his career in the film industry by providing cameras and equipment to Montreal cinematographers, according to an online biography posted on a website linked to his alma mater, the former Baron Byng High School.
Hoppenheim founded the Panavision equipment rental company in Montreal in 1965, going on to open offices in Toronto, Vancouver and Israel over about a decade. In a bet on Montreal's potential as a movie-making centre, he subsequently bought Cité du Havre's Expo-Théâtre in 1988 and created Mel's Cité du Cinéma, which now includes 20 studios. Quebecor Inc.'s TVA unit acquired the company's parent in 2015.
"He was a Canadian movie industry pioneer and a visionary with a remarkable list of accomplishments," the company now known as Mels said Thursday in a Facebook post. "In the course of his illustrious career, Mr. Hoppenheim passed on his passion for film to generation after generation" through his involvement in Quebec's Institut national de l'image et du son and Concordia University's film school, which now bears his name.
Following a $1-million donation from Hoppenheim, Concordia named its film school after him in 1997.
Hoppenheim was appointed to the Order of Canada in 2015. A statement from the Office of the Secretary to the Governor General at the time praised "his contributions to the vitality of movie-making in Canada and for his support for a wide variety of educational and community organizations."
Sign up to receive daily headline news from the Montreal Gazette, a division of Postmedia Network Inc.
By clicking on the sign up button you consent to receive the above newsletter from Postmedia Network Inc. You may unsubscribe any time by clicking on the unsubscribe link at the bottom of our emails. Postmedia Network Inc. | 365 Bloor Street East, Toronto, Ontario, M4W 3L4 | 416-383-2300