"I watched my own brother suffer in silence with that, because he felt there was nowhere he could go." — Mark Lemstra, Alliance Health CEO.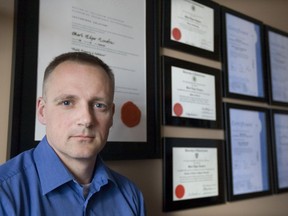 Mark Lemstra's two older brothers would both succumb to their addictions in very different ways.
"They were completely different brothers," the chief executive officer of Alliance Health told politicians and mental health and addictions advocates who gathered earlier two weeks ago for the announced opening of organization's new 17-bed treatment facility in Moose Jaw.
"My first brother was the stereotypical person that was homeless for most of his life, on social assistance, went to jail once for stealing a car to support his addiction and died one day in a really complicated way."
The family wouldn't even find out about his 2002 death in the Netherlands until some time later, Lemstra said.
"My other brother, though, was completely opposite … an academic, engineer, highly respected, but he had an addiction in secret that no one other than maybe myself and one or two friends knew about."
After several failed attempts after joining 12-step programs, he would die alone in his apartment on July 8, 2000, Lemstra explained.
With addictions deaths on a sharp rise including  464 Saskatchewan drug overdose deaths in 2021, Lemstra contends "we need to consider doing things differently."
"Today, one wouldn't be offered any care at all and one would be offered the same old thing that didn't work," Lemestra said in an interview.
Lemstra said the biggest difference with his facility officially opening Aug. 1 is it moves away from the etiology "cause and effect" treatment promoted by Dr. Sigmund Freud more than a century ago that requires you to address past behaviour.
Instead, Lemstra's opts for a model promoted by Freud contemporary Dr. Alfred Adler, providing individual psychology treatment that focuses on changing current addictive behaviour to improve one's future.
"I know from my own personal experiences that my brothers couldn't move on from what happened to them as children," Lemstra said, during his speech. "My brothers couldn't move on from what was happening to them in the present."
The former co-ordinator of behavioural medicine at the University of Saskatchewan's College of Medicine stresses that while he supports addiction 12-step or residential programs based on group counselling that do work for some, such approaches don't work for everyone because some have suppressed their past or "don't want everyone to know your secrets."
Still-existing stigmas accompanying addictions make it difficult for many professionals like his brother to share in a group setting, he said in his speech. But if your history is one of sexual abuse or physical abuse or a current complication in your life, many are never able to deal with it openly.
These people need a place to go, too, the Alliance Health CEO said.
"I watched my own brother suffer in silence with that, because he felt there was nowhere he could go — because he didn't want his secrets known and he didn't want his secrets exposed," Lemstra said. "He couldn't even talk to family members about it."
Lemstra — who doesn't shy away from the word "private" in any context — also acknowledged the higher costs associated with such individual or private treatment.
He noted a website for a Toronto addiction centre quotes a $650-per-day (or $19,500 for a standard 30-day treatment) cost and the cheapest similar Western Canadian facility charges about $544 a day or $16,625 for a month's treatment.
With that in mind, Lemstra set a price for those attending his Moose Jaw facility at exactly half — a near-break-even $8,312.50 a month. He's cut some costs by contracting meals with Moose Jaw's Families for Change that offers employment to local intellectually challenged people.
Moreover, Lemstra said previous ventures in this province, including "Healthy Weights" that successfully addressed addictive behaviour causing obesity and "Healthy Kids," demonstrate he isn't doing this to get rich.
"We're the same crazy group that treated 5,000 (overweight) kids and adults for free," he said.
While government support may be needed down the road, his focus now is providing treatment options for those who need them … options his brothers never had.
Mandryk is the political columnist for the Regina Leader-Post and the Saskatoon StarPhoenix.
Want to know how we decide what to cover and how editorial decisions are made at the Saskatoon StarPhoenix and Regina Leader-Post? Get the weekly Letter From the Editor newsletter from the Editor in Chief Russell Wangersky and join the discussion on what goes into covering news and delivering commentary, both in print and online. Click here to subscribe.
Regina Leader Post Headline News
Sign up to receive daily headline news from Regina Leader-Post, a division of Postmedia Network Inc.
By clicking on the sign up button you consent to receive the above newsletter from Postmedia Network Inc. You may unsubscribe any time by clicking on the unsubscribe link at the bottom of our emails. Postmedia Network Inc. | 365 Bloor Street East, Toronto, Ontario, M4W 3L4 | 416-383-2300