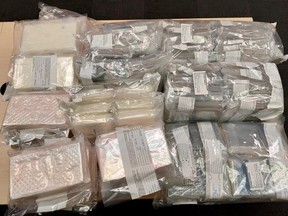 An Edmonton man has been charged after cocaine and heroin with a street value of $7 million was discovered being imported into Canada.
The charge stems from an investigation by the Integrated Border Enforcement Team, a joint operation between the RCMP, the Canada Border Services Agency, and the Calgary Police Service, into cross-border drug importation using commercial transport vehicles. The team seized 38 kilograms of cocaine and 30 kilograms of heroin.
Edmonton Journal Headline News
Sign up to receive daily headline news from the Edmonton Journal, a division of Postmedia Network Inc.
By clicking on the sign up button you consent to receive the above newsletter from Postmedia Network Inc. You may unsubscribe any time by clicking on the unsubscribe link at the bottom of our emails. Postmedia Network Inc. | 365 Bloor Street East, Toronto, Ontario, M4W 3L4 | 416-383-2300
"This complex investigation, which spanned several months, is a great demonstration on the importance of collaboration between agencies," said Supt. Sean Boser, officer in charge of federal policing, in a news release.
"Investigators were able to prevent 68 kg of cocaine and heroin from impacting Alberta's communities and potentially saving lives."
Recommended from Editorial
On Oct. 13, David Phanthikane, 42, of Edmonton, was charged with possession of a controlled substance for the purpose of trafficking.
Phanthikane is scheduled to appear in Edmonton provincial court on Wednesday.
The Integrated Border Enforcement Team's mandate is to enhance border integrity and security along the border, between designated ports of entry, by identifying, investigating and interdicting persons, organizations and goods that are involved in criminal activities.