Costs of groceries and fuel along with declining demand behind closure for one Saskatchewan business owner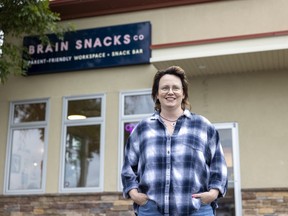 The pressures caused by COVID-19 pandemic and the rising costs due to inflation, combined with a waning customer base, are behind the upcoming closure of one Regina business, according to its owner.
Brain Snacks Co. is closing its doors at the end of the month, after about three years in business, most of it during the brunt of the COVID-19 pandemic.
The business, aimed at women, included a cafe, child care for an hourly fee and a work space for people to get things done at the cafe and child play space.
"The cost of doing business has increased substantially with grocery prices increasing, freight costs increasing, gas prices increasing and the volatility caused by the customer demand going up and down so drastically through the year … makes things really difficult," business owner Donna-Rae Crooks said on Monday.
Last week, Statistics Canada data showed there had been an 8.1 per cent increase in the inflation rate in June compared to the same time last year, largely driven by a rise in fuel prices. Customers paid just over 54 per cent more for fuel in June than they did in June 2021.
Food prices also rose, with StatsCan saying the average cost of fresh fruit and meat rose by more than 10 per cent and fresh vegetables was up more than eight per cent between April 2021 and 2022.
"In food and coffee, the margins are tight as it is," Crooks said. "It's very difficult as prices change drastically as they have been."
On top of the costs, fewer customers are coming in lately with business down about 30 per cent for the business cafe compared to the same time last year, Crooks said. The business boom usually seen between March and July has not materialized, she added.
It makes more sense to close than to wait it out and see if the business comes back, she said.
On top of all of that is the cost of labour to consider and Crooks said it's necessary to pay good wages to keep staff, especially when there is a shortage of workers.
Saskatchewan has the lowest minimum wage in the country, $11.81 — which will increase in October to $13, surpassing Manitoba's minimum wage. Saskatchewan's minimum wage will rise again to $15 in 2024, a decision which also factored into the closure of Brain Snacks.
There are seven staff employed at Brain Snacks but at its highest staffing was about 17 people, close to the "bare minimum" staffing levels needed.
Staffing shortages are being felt throughout the province. In the the hospitality industry, like restaurants, tourism and convention centres, for example, there were about 3,000 job positions posted recently, according to Jim Bence, CEO of Hospitality Saskatchewan.
Other than tipped positions, there aren't a lot of positions in the hospitality industry still paying minimum wage that Bence could think of. He said business owners realize they're competing with other employers in general, not just the hospitality industry. Bence said about 60 per cent of a businesses expenses are wages.
"When that goes up significantly, that puts a real dent into some of those very slim revenues, those margins," Bence said.
Regina Leader Post Headline News
Sign up to receive daily headline news from Regina Leader-Post, a division of Postmedia Network Inc.
By clicking on the sign up button you consent to receive the above newsletter from Postmedia Network Inc. You may unsubscribe any time by clicking on the unsubscribe link at the bottom of our emails. Postmedia Network Inc. | 365 Bloor Street East, Toronto, Ontario, M4W 3L4 | 416-383-2300