As is the team's custom, Montreal started slowly on offence despite having a wind advantage in the first quarter.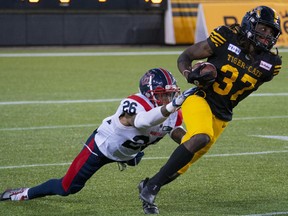 HAMILTON — It was too little, too late for the Alouettes.
A fourth-quarter Montreal comeback fell short Thursday night and the Als lost 24-17 to the Hamilton Tiger-Cats before 20,932 spectators at Tim Hortons Field.
The Ticats, notorious for their second-half collapses this season, were outscored 11-0 in the final period. The Als drove to the Hamilton 21 before Dominique Davis was intercepted on the game's final play.
Trevor Harris passed four yards to Hergy Mayala for the Als' only touchdown, while David Côté added three field goals. Hamilton touchdowns were scored by Don Jackson on a short run, Steven Dunbar, on a 40-yard run, and third-string quarterback Jamie Newman on a short run. Seth Small added a field goal.
Both teams have 2-5 records.
The Als, as is their custom, started slowly on offence despite having a wind advantage in the first quarter. They also discovered quickly they weren't going to draw any favours from the officiating crew.
On the Ticats' opening possession, Dave Evans completed a pass to Tim White. Former Ticat Tyrice Beverette forced a fumble that was recovered by defensive-back Wes Sutton. Following a video review, the pass was ruled incomplete, although it appeared to be an obvious turnover.
A 39-yard punt return by Chandler Worthy, who is often Montreal's best player, put the Als in scoring position. But the visitors couldn't punch the ball into the end zone and settled for Côté's 16-yard field goal at 14: 30.
A nine-yard pass to Eugene Lewis on the drive that would have put the ball on the Hamilton three-yard line was successfully challenged; the play ruled incomplete.
The Ticats then promptly went on a five-play, 70-yard drive with Matt Shiltz, the former Alouette, at quarterback. He ran for a 30-yard gain; the Ticats gaining more yards after an unnecessary roughness penalty against Beverette. Shiltz then passed 17 yards to Jackson, putting the ball inside the Montreal 10.
Three plays later, on third and goal, Newman scored on a one-yard, off-tackle run at 1: 39.
Côté narrowed the deficit to a point after a 44-yard field goal into the wind at 5: 52.
Small's 30-yard field goal at 14: 17 gave Hamilton a 10-6 lead before Côté's 51-yard field goal attempt into the wind just before the intermission fell short.
Although the Als had the wind advantage again in the third quarter, the visitors were outscored 14-0 in the period.
Following a Montreal two-and-out, the Ticats engineered a six-play, 90-yard drive that included a 21-yard pass to Kiondre Smith from Evans, along with a 16-yard run by Sean Thomas-Erlington.
On the next play, Evans connected with Dunbar for a 40-yard pass-and-run touchdown at 5: 10, the wide-receiver completing a pretty inside/outside move to elude Montreal's defenders.
Following another Montreal two-and-out — on which the visitors unsuccessfully challenged what appeared to be a blatant pass-interference penalty against Jumal Rolle — the Ticats produced their second touchdown of the quarter on Jackson's two-yard run at 10: 06, giving Hamilton a 24-6 advantage.
The Als, however, clawed their way back into the game — against the wind — in the fourth quarter. It began with a fake punt by Joseph Zema that produced a 21-yard gain to the Hamilton 36. That eventually resulted in Côté's 17-yard field goal at 1: 41.
Then, after Mike Jones forced a Dunbar fumble that was recovered by Marc-Antoine Dequoy, the Als generated an eight-play, 87-yard drive, culminating in Harris's four-yard touchdown pass to Mayala at 8: 41. Jeshrun Antwi ran in for the two-point convert, pulling Montreal to within a touchdown at 24-17.
Tyson Philpot's 57-yard punt return put the Als in scoring position, but on a third-and-10 gamble from the Hamilton 27 with 2: 23 remaining, Harris was stopped short, gaining six yards.
Montreal entertains Winnipeg next Thursday night.
Sign up to receive daily headline news from the Montreal Gazette, a division of Postmedia Network Inc.
By clicking on the sign up button you consent to receive the above newsletter from Postmedia Network Inc. You may unsubscribe any time by clicking on the unsubscribe link at the bottom of our emails. Postmedia Network Inc. | 365 Bloor Street East, Toronto, Ontario, M4W 3L4 | 416-383-2300