"We're just running and getting to the ball," said new middle-linebacker Micah Awe, who has played two games for Montreal.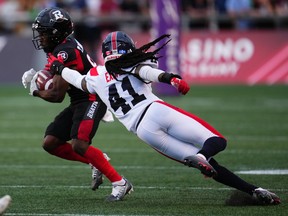 Skeptics would suggest the Alouettes are playing a dangerous game defensively, having allowed 65 points the last two games. If nothing else, it's putting tremendous pressure on the offence to score abundantly.
However, the players and coaches in the defensive room believe progress is being made since Noel Thorpe replaced the fired Barron Miles as defensive co-ordinator. Thorpe has introduced new philosophies and schemes on the fly, without the benefit of training camp or exhibition games, and the Als are 1-1 since he and Danny Maciocia — the general manager and interim head coach — assumed control.
"We're just running and getting to the ball," said new middle-linebacker Micah Awe, who has played two games and was Maciocia's first signing after replacing Khari Jones. "We don't care about missed tackles or points. All we care about is winning.
"The other thing's physicality," added Awe, whose 68-yard fumble recovery, on a play forced by defensive-back Najee Murray, resulted in Montreal's final touchdown last Thursday against Ottawa. "We're putting people on their backs. If you're going to get a win on us, you're going to be licking your wounds. You're not going to want to play us next time. And that's when we'll win the second time."
While the Als lost 32-31 to Edmonton on July 14, they squandered a 19-point, third-quarter lead before the Elks scored the game's final 20 points. But for 37 minutes, the defence was on point.
There certainly were some critical moments on the Redblacks' final drive last week. Trailing by a touchdown, quarterback Caleb Evans engineered a 15-play drive from the Ottawa 11 in the final two minutes that was aided by a questionable pass interference penalty against Adarius Pickett, one of four taken by Montreal. And, had Darvin Adams not dropped a pass in the end zone when he was wide open — taking advantage of a busted coverage — the Als would probably have been headed to overtime. However Montreal prevailed 40-33.
"The thing we see … is there's a level of physicality and effort running to the football that shows up on each play," Thorpe said. "In opportunistic moments, plays like that come around. You saw that when Murray came downhill and made a crucial play on (Nate Behar). Two players, Pickett and Awe, were right there to pick up the ball.
"We've had opportunities and created opportunities."
Nonetheless, Evans passed for 297 yards and the Als surrendered 344 in total through the air. Sooner or later this trend, unless the coverage in the secondary tightens, will come back to haunt Montreal. Defensive-back Wes Sutton has taken four pass interference penalties in the last two games. While he appears to be a liability, the way the officials are calling the game makes it difficult to make a play on the ball.
"Nobody thought we'd come in and pitch a shutout when the (coaching) move was made," Maciocia said. "Can we do a better job? Absolutely."
In other news, linebacker Tyrell Richards, the first overall draft choice this year, has been placed on the six-game injured list with a knee injury. Centre Sean Jamieson was added to the active roster early from the six-game IR, while defensive-lineman Antonio Simmons was released.
Quarterback Dominique Davis took second-team reps Sunday ahead of Vernon Adams Jr. Maciocia said it was a "maintenance day" for Adams.
Sign up to receive daily headline news from the Montreal Gazette, a division of Postmedia Network Inc.
By clicking on the sign up button you consent to receive the above newsletter from Postmedia Network Inc. You may unsubscribe any time by clicking on the unsubscribe link at the bottom of our emails. Postmedia Network Inc. | 365 Bloor Street East, Toronto, Ontario, M4W 3L4 | 416-383-2300