While many survivors of residential schools have been moved by the Pope's apology tour of Canada, many Indigenous people say he must take concrete actions.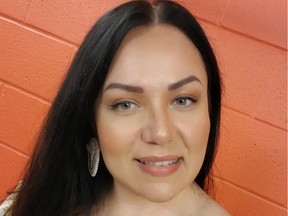 How can you accept an apology when your language has no word for "sorry?"
This is the conundrum at the heart of Wahéhshon Whitebean's reaction to Pope Francis's historic visit to Canada, including Quebec City, this week to own up to the Roman Catholic Church's "shame" for the "catastrophic" residential school system that tore Indigenous children from their families, homes, languages, cultures and communities.
While some survivors have taken comfort from the Holy See's apology for a system that inflicted horrific physical, sexual and psychological abuse on generations of youngsters, others affected by the fallout from a century of cultural genocide are struggling with an attempt at reconciliation that seems one-sided, is offered on the "perpetrators'" terms, puts the onus on Indigenous people to heal and is rooted in the Catholic doctrine of granting forgiveness when requested.
"In our language, we do not have a word for sorry," said Whitebean, a 39-year-old Mohawk mother, PhD candidate in education at McGill University and researcher who works on language revitalization in the Kahnawake school system. "Culturally, we're taught we have to make our wrongs right. You have to do everything in your power to make everything right when there's a wrong."
Whitebean is well-versed in the wrongs of residential schools. She is the descendant of survivors. Her mother was taken in the Sixties Scoop before her great-grandmother managed to get her out. Whitebean herself attended Indian day school in her early years, which was similar to residential school in terms of its colonialist mission and track record for students being horrifically abused by staff and clergy, except that children weren't forcibly removed from their communities.
"I'm at the tail end. I'm the transition generation out of these institutions," she said. "I like to remind people that people my age, in their 30s and 40s, went to Indian day schools and residential schools as well."
Aside from this personal perspective, Whitebean has also dedicated her career to unearthing to truth about the racist policies that robbed Indigenous Peoples in Canada of their language, culture, pride and dignity. For her research at McGill she has gathered countless testimonials from survivors and delved into the archives of various institutions where she found unimaginable abuse toward children was often justified as God's work.
For Whitebean, as for many others, words alone cannot make amends for these atrocities. If the Pope's apology is sincere — if this "walking together" tour of Canada was any more than "lip service," if the Catholic Church truly wants to right wrongs — words must be followed up with action.
"How can you possibly heal from something that's that heinous when there hasn't been any justice?" she asked. "An apology isn't going to ripple through the generations as much as the harms did. That's the problem, that's why we need concrete action so that this doesn't continue to occur."
Many Indigenous people have called for the Doctrine of Discovery to be rescinded. This 1493 Papal order legalized the plundering of Indigenous lands historically and is still cited by courts and governments today.
Its revocation was at the top of an eight-point "to-do" list for the pontiff tweeted out last week by Dr. Cindy Blackstock, expert on Indigenous children's rights, professor in McGill's School of Social Work and member of the Gitksan First Nation.
"The most important time is the day after the apology," she said.
Other steps Blackstock suggest the church should take: repatriating lands, artifacts and human remains taken from Indigenous Peoples; making reparations for past injustices that don't come from parishioner's pockets; holding abusers accountable; and conducting an independent records review of all documents related to residential schools."
In her own work, Whitebean has found religious orders and institutions tightly control access to their archives.
But it's for the Indigenous children of today and tomorrow that Whitebean said more action must be taken to protect.
"I can never think about or talk about Indian residential schools without reminding people about the fact that today there are more Indigenous children in the child welfare system than there were at the height of Indian residential schools. And what was the residential schools, the day schools were replaced by child welfare policies and practices," she said. "There's also the support the church could lend to changing government policy and the systemic racism and oppression that results in Indigenous children being apprehended and put into the child welfare system.
"If you're genuinely sorry and your tears are real … what about the kids who are in the system today?"
ahanes@postmedia.com
Sign up to receive daily headline news from the Montreal Gazette, a division of Postmedia Network Inc.
By clicking on the sign up button you consent to receive the above newsletter from Postmedia Network Inc. You may unsubscribe any time by clicking on the unsubscribe link at the bottom of our emails. Postmedia Network Inc. | 365 Bloor Street East, Toronto, Ontario, M4W 3L4 | 416-383-2300