"While most children are not at high risk of severe outcomes, children under five have higher risks than those age five to 11," chief medical officer of health Dr. Deena Hinshaw said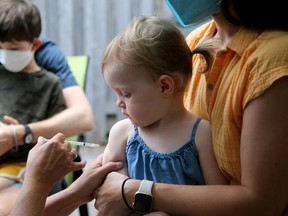 Alberta parents can book appointments starting Tuesday for their children between six months and five years old to get vaccinated against COVID-19.
The announcement came mid-afternoon on a Friday before a long weekend, after days of uncertainty about when babies, toddlers and preschoolers could get their shots.
Bookings begin Aug. 2, with vaccinations also starting that day. An Alberta Health spokesperson previously said they expected to roll out the vaccine by the end of July.
Alberta Health Services clinics will be administering the vaccine, since the scope of practice for pharmacists giving shots is for patients five years and older. Appointments need to be booked through bookvaccine.alberta.ca or by calling 811.
Article content
Children younger than five who live on a First Nations reserve can access doses through nursing stations or public health clinics on-reserve, according to an Alberta government release.
According to Health Canada, the federal government had distributed more than 30,000 doses to Alberta by July 21, and as of Thursday, there were nearly 48,000 doses in the province's hands. It's unclear why there's been a delay between receiving the shipments and giving the shots.
Neither chief medical officer of health Dr. Deena Hinshaw nor Health Minister Jason Copping appeared to answer questions about the shots Friday.
"While most children are not at high risk of severe outcomes, children under five have higher risks than those age five to 11," Hinshaw said in a statement.
Article content
"I encourage parents and guardians to speak to a trusted health-care provider for questions about their child's health, including questions about COVID-19 and immunization."
Throughout the pandemic, according to Alberta Health data, 385 babies younger than one year old have been hospitalized due to COVID, as well as an additional 370 children between the ages of one and four.
A one-year-old child also died from COVID in late 2021. At the time that death was reported, Hinshaw said "complex pre-existing medical conditions" played a significant role, but emphasized that doesn't diminish the pain of the loss.
Alberta is the last province in Canada to set a date for appointments, more than two weeks after Health Canada authorized the Moderna Spikevax vaccine for children younger than five. Those children get a smaller dose than their older peers: half of the dose given to kids ages six to 11, and one-quarter of the dose for those 12 and older.
Article content
The vaccination comes in a two-dose series, and Alberta is recommending spacing the doses eight weeks apart.
Saskatchewan opened vaccine bookings for young children one week ago, and Ontario began giving shots Thursday. In B.C., the government asked parents to start registering their children for vaccination the same day Health Canada approval came through, and appointments there will also start Aug. 2.
Health Canada said there were no safety concerns identified in the clinical trial of the vaccine. The most common reactions were similar to the ones kids experience for other pediatric vaccines, including pain at the injection site, sleepiness and loss of appetite.
Less commonly, some kids got a mild to moderate fever, swelling at the injection site, nausea, tender lymph nodes under the arm, headaches and muscle aches.
As of Wednesday, there are 649 people hospitalized in Alberta with COVID-19, including 26 in intensive care.
Sign up to receive daily headline news from the Edmonton Journal, a division of Postmedia Network Inc.
By clicking on the sign up button you consent to receive the above newsletter from Postmedia Network Inc. You may unsubscribe any time by clicking on the unsubscribe link at the bottom of our emails. Postmedia Network Inc. | 365 Bloor Street East, Toronto, Ontario, M4W 3L4 | 416-383-2300